Tips For Traveling with Your Cat
|

Travelling with a cat requires good planning
The cat boarding house is hopelessly overcrowded, the friendly neighbour has no time, the own family lives much too far away, all friends are on holiday. If you want to travel with your cats, there are many reasons which can put you in an extremely difficult situation. Sometimes pet owners only have two alternatives: Either they abandon their planned holiday and make themselves comfortable in their own four walls together with their house cat or they "simply" take their cat with them on the trip. As long as you stay in Germany and have a permanent home for the entire holiday or business trip, taking your cat with you is not really a problem – provided that the owner of the holiday home has no objections to pets. If you are going on a round trip or a stressful business trip, it is generally better to avoid taking your pet with you. Travelling abroad can also prove to be difficult under certain circumstances: strict entry regulations, up-to-date health certificates, meticulous vaccination certificates and a month-long quarantine make holidays with your four-legged friend more difficult. Of course, all these regulations are probably sensible and well thought out; after all, they are good for the health of all pets. For the pet owner, however, they bring a whole series of inconveniences.
What needs to be done before the start of the trip?
If you want to take your cat abroad, you should make enquiries well in advance. Every veterinary office and also the ADAC can provide information about current entry regulations. Of course you can also ask your veterinarian, who can then immediately carry out the necessary vaccinations. Don't forget to inquire whether cats are allowed at all in your place of residence (hotel, holiday home, apartment)! You should never rely on the fact that the owner of your holiday home will give in as soon as he looks into the charming eyes of your cat. Almost all hotels and holiday resorts insist on their house rules and do not make any exceptions in principle.
Quarantine regulations
If you want to travel with your cats, you should in any case inform yourself about the entry regulations in the respective country. Some countries outside of the EU, such as Australia and New Zealand, have stricter regulations concerning the entry of cats. To prepare the cats, they have to spend some time in a quarantine station. This should really only be accepted if a permanent move to the respective country is imminent. A stay of several weeks hardly justifies the strains a cat expects during the quarantine period. The quarantine stations are sterile and do not take the needs of individual cats into consideration. Again and again animals die during the quarantine period and the owner's options for action are reduced to a minimum, making the process an ordeal for both humans and animals. The quarantine costs are also borne by the owner of the animal.
Rabies
It is assumed that an animal infected with rabies falls ill within six months. Therefore, the disease should break out during quarantine. A later outbreak is apparently not to be expected. Norway and Sweden also maintained their quarantine policy for many years. For five years now, however, travelling pet owners have finally been able to breathe a sigh of relief: "compulsory confinement" has been lifted. If you want to travel with your cats, you still have to expect some complications in Norway and Sweden: Cats may not be younger than 1 month and must undergo treatment against tapeworms in the last 10 days before entering the country. In addition, the Scandinavians require a blood test that detects antibodies against rabies. The blood test must be carried out at the earliest four months after the rabies vaccination. The official veterinary health certificate must be issued within the last ten days before entry.
Entry regulations
In most other European countries it is sufficient to have an official veterinary health certificate, which is not older than ten days and the cat has been vaccinated against rabies within the last year. Vaccinations against cat cold, feline plague and leucosis should be a matter of course for every cat owner anyway. There is hardly a responsible cat owner who puts his house cat in danger of catching an absolutely avoidable disease and possibly perishing miserably.
Some countries, such as Finland, for example, insist that the vaccine used is also approved in their country. The vaccination certificate must be issued (at least for entry into Finland) in English, German and Finnish or Swedish. In other European countries it is sufficient if the vaccination card contains explanations in three languages (English, German and French). Since the entry regulations change frequently, one should inform oneself as early as possible about the current status and immediately initiate all necessary vaccination measures, if one plans a vacation with the quadruped. Those who rely on the fact that last year's entry regulations are the same as this year's may be in for a nasty surprise and throw their holiday plans overboard at short notice.
How do I transport my cat?
Once all these formalities have been successfully completed, the second part of holiday planning follows: the cat must be placed in an escape-proof container during the journey. Transport boxes made of plastic prove to be an optimal alternative in this respect. They are easy to clean, absolutely escape-proof and comfortable to carry. Pasture baskets and soft cloth travel bags with air holes may be more attractive, but they are far less suitable for longer journeys. Grazing baskets are extremely bulky and soft bags simply offer the cat too little protection. Plastic baskets are suitable for travelling by car as well as for transport by plane and train. (If you are travelling with your cats in an airplane, you must notify the airline in good time! Information can be obtained from any travel agency).
The travel equipment
Of course the cat toilet is also part of the travel equipment of a house cat. You do not necessarily need to carry the domestic "large cat toilet" with you on holiday: A small handy show toilet is much better suited for travelling and also serves well in the holiday home. Cat litter, a small litter shovel, plastic bags, tins with moist food, dry food, treats, food and water bowls, brush, combs, blankets, pillows and toys should also be packed as a precaution. Maybe the usual kinds of food are not available at the holiday resort or everything is much more expensive than at home. The change to an unfamiliar type of food could possibly be an additional burden. The metabolism of a cat adjusts only slowly to new food. If you are planning a longer stay abroad, you should be careful with your cat's stomach: A change of food habituation should be delayed for at least a week. The proportion of the accustomed food is slowly reduced; the proportion of new food increases in percentage terms. This gives the cat's organism enough time to adapt to the new food.
During the journey
If you want to travel with your cats, you have to consider some things: Some cats only tolerate the transport in the car to a limited extent. They react with severe nausea, are tense and very nervous. If your own house cat already reacts with vomiting during short journeys or is excessively anxious, you should relieve his condition. A veterinarian can certainly recommend a well-tolerated sedative that will put your four-legged friend into a gentle sleep for several hours.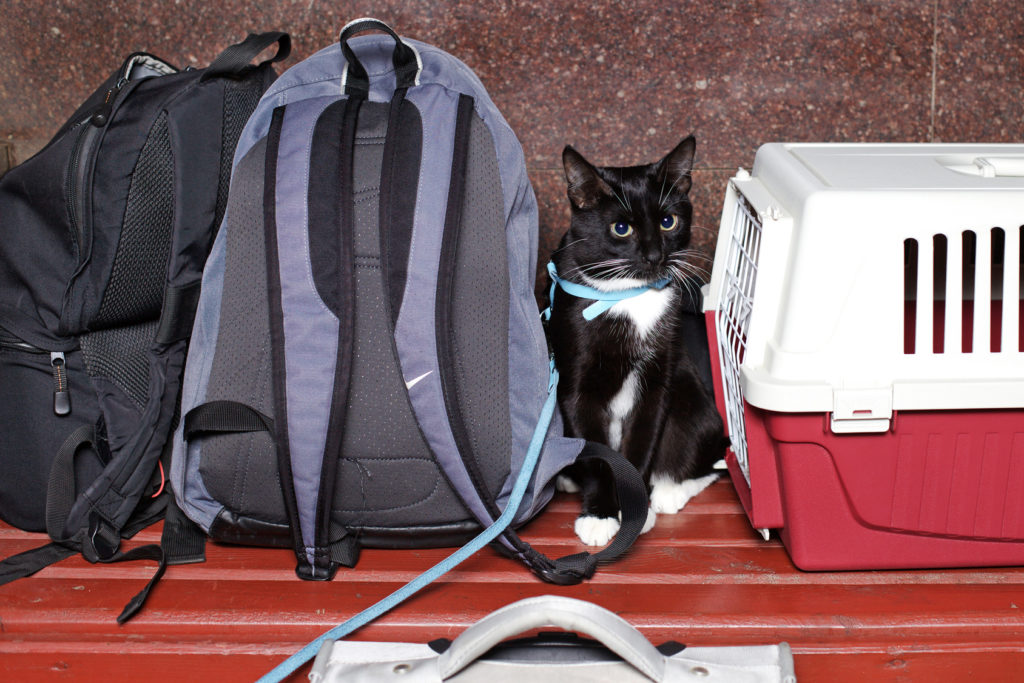 Such a measure is definitely in the interest of the animal and also allows the cat owner to start the holiday more stress-free. Less sensitive cats can be calmed down by the mere presence of their caregivers and by good coaxing. But even if a cat loves to travel and is very self-confident in the car, you should never let it out of its transport box while driving. Cats that are not locked up like to climb around in the entire vehicle interior or distract the driver. Such experiments are unreasonable and pose a great danger to humans and animals. In case of an accident, the house cat is also much better protected in the transport box. If it sits unsecured in the rear seat, it will be thrown through the driver's cabin in the event of a heavy braking or a rear-end collision. Such an incident can cause a cat to panic, which is a further danger to the occupants.
Travelling with cats: Heat stroke hazard
Those who travel south with their cat should keep an eye on the outside temperatures. High temperatures endanger the health of the house cat and can cause heat stroke. If you travel with your cats in the car, the temperature should be comfortable during the journey – whereby draughts should be avoided. Caution is advised at petrol stations and rest areas: Even if you only want to have a coffee or plan a short break, the car should be parked in a shady place and the windows should be opened a little bit to allow fresh air into the car. In direct sunlight, the interior of the car very quickly reaches threatening temperatures. If it is hot, the cat should be offered some water from time to time. A water bottle and a small plastic bowl will do a good job and are easy to handle.
Infections and parasites
Every holiday destination has its pitfalls – at least as far as the spread of infectious diseases and parasites is concerned. Under certain circumstances our cat comes into contact with pathogens abroad, which are very rare in Germany and can cause serious diseases. Therefore every trip abroad with the four-legged friend requires an intensive preliminary talk with the veterinarian. He will inform you about possible risks, suggest prophylactic measures and give you tips on behaviour. Tap water should generally be avoided: In some countries there is no drinking water quality and this is not only true for us humans but also for our pets. Even a cat can be attacked by intestinal bacteria and react with persistent diarrhoea. Water bottles without gas are available in most supermarkets and are a relatively safe alternative to tap water. In contrast to dogs, most travelling cats will not enjoy independent explorations. It's better that way: contact with other animals, especially strays, can possibly lead to disease transmission.
There's no place like home, is there?
If you want to travel with cats, you need to be aware of certain risks and expenses. Of course it is quite possible to take your cat on holiday or on an urgent business trip. Some quadrupeds and bipeds seem to enjoy such an adventure. Nevertheless, before you start your journey, you should consider carefully if there really is no other alternative. In general, cats prefer their usual territory and they can even cope with a separation from their caregivers for several weeks without suffering permanent psychological damage. If you plan in time, you will surely find a loving caregiver for your cat.
"Suitcase list" for the cat:
✓ vaccination certificate
✓ official veterinary health certificate
✓ Transport box
✓ Blankets and pillows
✓ Cat toilet
✓ Bedding
✓ Spreading vane
✓ Plastic bags
✓ Feed and water bowls
✓ Wet and dry fodder
✓ Treats and vitamins
✓ Possibly required medication
✓ Brushes and combs
✓ Toys
✓ the telephone number of your own veterinarian