What You Should Consider Before Buying an Outdoor Cat House
|
An outdoor cat house, as the name suggests, is intended for outdoor use. Among other things, this is noticeable in the size of the cat houses and their functions. That is, an outdoor cat house can depending on the model and design, have heating, which would not be necessary for an indoor cat house and would not be possible for a house made of cardboard.
In contrast to cat houses, which are made for the indoor area, there is almost no material in an outdoor cat house that embellishes the house in the form of curtains or the like, but rather insulated floors and walls are used here, so that your cat well sheltered even in wind and weather and during the cold season.
If you invest a little more to be able to use your cat house outdoors, you can even buy an outdoor cat house with sound insulation  protected against adjacent street noise and can sleep and relax in peace.
If you use a cat house outdoors, you should of course always pay attention to the processed material. This means that it makes sense to use a cat house that is made at best from hardwood, which is of course more expensive to buy than an outdoor cat house made of softwood. However, it is not worth using the "cheapest" variant when purchasing, because there are also differences in the quality of workmanship in cat houses.
There are also differences at the "entrance" of the outdoor cat house, with some models your kitten can enter the house through a thermal curtain, with others the access is regulated by the function of a cat flap. Here you should consider before buying that not every cat likes to go through a cat flap. In this case, a cat house with a thermal curtain would be recommended.
Cleaning the cat house
The care and cleaning of an outdoor cat house is relatively simple, because it can be rubbed with a sponge and water, or with a mild cleaner, such as orange oil cleaner, and then  be rinsed off with a garden hose. Then it makes sense to dry the house in a sunny spot if necessary.
Of course, you should also keep an eye on the condition of the paint or seal and regularly paint the cat house with a weatherproof varnish / paint or glaze with wood preservative oil. It should be ensured that these paints and varnishes are non-toxic and in the best case are certified for children's toys.
The size of an outdoor cat house should be carefully considered
What you should always consider when buying a cat house, whether for indoor or outdoor, is the number of cats that should be in the new cat house and their size. Because there are certainly houses that are quite narrow for just one big cat or a big cat. Therefore, you should always check before buying that there are exact sizes of your favorites so that after the construction of the new dwelling the bad awakening does not approach.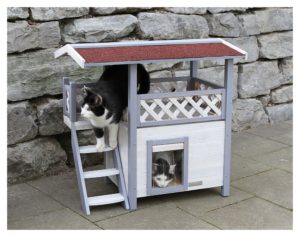 The question of the parking space
A cat house can of course be placed wherever you want. Nevertheless, there are a few things to consider when choosing a location. Cats love to keep a close eye on everything, so it would of course be good if the house was placed in such a way that your cat only had the whole garden in view at best.
You should also consider whether it does not matter if the outdoor cat house gets wet with every downpour and thus more traces of the weather can be seen, or if you would prefer to put your cat house a little more protected in order to have something longer it does not have to be painted or sealed as often.
Accessories for an outdoor cat house
It is also possible to beautify an outdoor cat house or to make it even more interesting for your cat. Especially in the cold season, it makes sense to equip the house with a self-heating cat blanket or a thermal blanket if your cat house does not have heating. This keeps your cats cozy and warm even on colder days.
It is also a nice idea to attach a cat scratching board or scratching mat to the cat house. Simply attach with a small nail or double-sided adhesive tape, so your kitten can also neatly claw at its new accommodation.
Especially in the garden you can be very creative and do a lot with a cat house. You can do it with other things like a cat ladder, connect to a tree when it is nearby. This creates new and exciting climbing opportunities for your cat.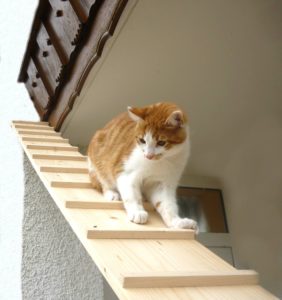 Advantages and disadvantages of an outdoor cat house
Advantages:
Cats have an extended view and can see everything. This is extremely important for cats, which is why the cat house gets a plus point for this
Cleaning is very easy and quick
Eye-catcher in the garden
In most cases it is very well prefabricated and can be assembled quickly and easily
The cat's outdoor model also offers protection outside the four walls. Cold weather or the like can no longer cause any problems thanks to the heated cat house
Disadvantage:
The outdoor cat houses must be painted regularly with weatherproof paint
Wood can crack or splinter more easily due to the weather
With good wood quality a little more expensive to buy,  and there may be toxic substances in the cheap products
The unheatable cat houses cannot adequately protect the cat from the cold. You should therefore choose a well insulated as well as a heated cat house so that our kittens don't freeze.
You must first check the cat house for wood chips, screws or nails that could injure the kitten. Remove the wood splinters and cover the places of the screws and nails. Scratching boards are ideal for covering, since on the one hand this reduces the risk of injury, on the other hand the cat can also pursue its scratching drive.
Purchase from an outdoor cat house
You can buy a good cat house in online shops, in specialist pet supplies stores and in well-stocked hardware stores.
In online shops there is a large selection, good offers and you can get a perfect overview of the different options. A great advantage of buying through online shops is that you can read through the reviews and opinions of other customers, who may be able to help you with your decision. Such reviews are always useful because buyers express their honest opinions here, which include both negative and positive aspects.
In this way it is possible to find out specific information and properties of the various offers to find out which cat house is the right choice for you and your cat.